Argentina invites you to do excellent top bird hunting!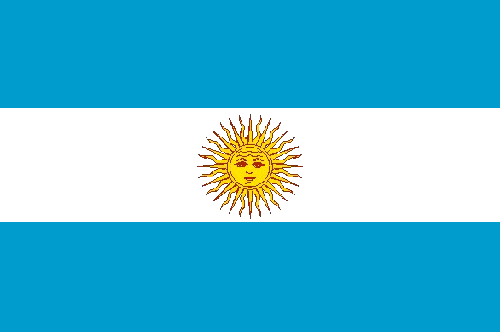 The exclusive Los Ombues Lodge in the province of Entre Rios, is beautifully situated on a hill. From here you can see the 35,000 hectares of the lodge's own game hunting area on the banks of the Parana River.
The hunt is in our own area and therefore very close to the lodge. The equipment (vehicles, boats, rental rifles) is in excellent condition and the qualified staff is well organized. After an unforgettable day of hunting, sink into a comfortable chair on the lodge and let the day pass by with your hunting companions.
Hunting types and areas:
During the hunt, each guest has an assistant who collects and counts the pigeons shot, who counts and collects the hunted ducks or takes care of the dogs during the partridge hunt. The drive from the lodge to the hunting grounds is about 10 to 20 minutes. From time to time, you literally just go outside the door.
Pigeons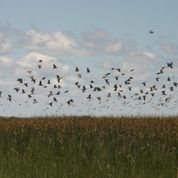 The pigeon is one of the main reasons why hunters come to Argentina to hunt. On the site of Los Ombues there are about 20 million pigeons. This hunt is a challenge to all hunters; whether experienced or just starting hunting.
Pigeon hunting can be done all day long, but early morning hours and late evening hours are most fertile. Experienced hunters should expect 1500 to 2500 rounds of ammunition a day.
Partridge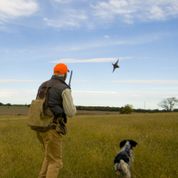 For hunters who enjoy hunting variety, Los Ombues also offers classic partridge hunting. Here you will find the peacock, which belongs to the genus of partridges. The partridges live in the fields and in the grasslands of the lodge and are retrieved by well-trained dogs after firing.
Ducks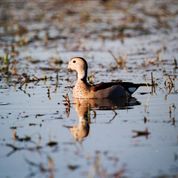 Duck hunting on Los Ombues is a real pleasure! A 10-minute boat ride takes you right into the dream area of every duck hunter. After an average hunting day, your hunting bag will be filled with a variety of duck species: spiny-tailed duck, bahama duck, cinnamon duck, andean duck, red-shouldered duck, versicolor duck, common piping duck, argentinian shoveler, autumn whistle-headed goose, widow whistle-goose and the widespread peposakaente. The number of ducks and the hunting quality are unsurpassable.
Accommodation:
Los Ombues Lodge, surrounded by vast fields and wetlands, is a magnificent 1100 m² brick building built in the typical Argentine country house style. The luxurious lodge has 9 spacious double rooms with bathroom; a dining room and a large living room with comfortable sofas and armchairs by the fireplace. The food from the modern kitchen or from the classic Argentine barbecue area has gourmet quality, not to mention the fine wines! You can also visit our sauna and whirlpool, use the gym with the latest equipment, take a refreshing dip in the swimming pool or enjoy a massage from one of our masseurs.
Explore the lodge on a horseback ride! Golf enthusiasts have a small driving range available. For the businessman, the lodge offers everything he needs abroad: telephone, fax, PC and W-LAN.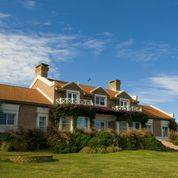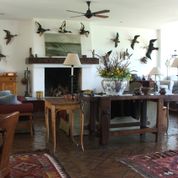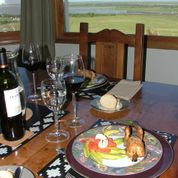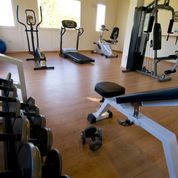 Climate:
In the province of Entre Ríos, there is a subtropical climate in the north with no dry season, while in the south a temperate pampa climate dominates. The average annual rainfall is 900 millimeters. The average summer temperature (November to March) is 20 degrees Celsius. In winter, the temperature drops to 10 to 13 degrees Celsius.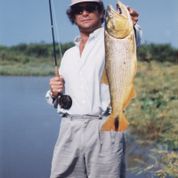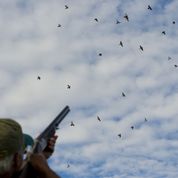 Hunting season
High Volume Pigeon Hunt
September to April. No unlimited pigeon hunting during the mixed-bag season
Mixed bag hunting – ducks, pigeons, partridges
May to August. Pigeons without limit, 20 ducks per person per day, 7 partridges per person per day
The hunting package
Pigeons special: 01. September to 14. January 
High Volume pigeon hunt
hunter/observer
Three days of pigeon hunting,
Swordfish and piranha fish;
on request a 4th day free
on request
For minimum 4 hunters transfer from / to Buenos Aires to / from the lodge is included
Doves Special: January 15, to April 30, 
High Volume Pigeon hunt
Price per Person in USD
Hunter
Hunter
Observer
Observer
double room
single room
double room
singleroom
Three days of pigeon hunting,
Swordfish and piranha fish;
on request a 4th day free
on request
on request
on request
–
For minimum 4 hunters transfer from / to Buenos Aires to / from the lodge is included
Wild game complete: 01. May to 31. August
Mixed Bag Hunt
Price per Person in USD
Hunter
Hunter
Observer
Observer
Double room
Single room
Double room
Single room
per Night
on request
on request
on request
–
Included in the price:
High Volume Pigeon Hunt includes transfer from / to Buenos Aires to / from the lodge
Overnight at the Los Ombues Lodge
All meals, as well as beer, wine, cold drinks and mineral water while staying at the lodge
1 hunting day per night (eg: 3 nights = day of arrival ½ hunting day, 2 full hunting days, departure day ½ day of hunting)
Daily hunting assistance
Daily transfers to the hunting grounds (transfer time only 10-20 minutes)
Swordfish and Piranha fish (only from September to April)
Assistance at the airport in Buenos Aires at the customs office
Additional costs
Weapon import at customs (about USD 120.00 per weapon) must be paid locally
Gun rental (USD 60.00 per day)
Hunting license (USD 100.00 per hunter for the entire stay at the lodge)
Tips at the Lodge (USD 100.00 per person per day). Will be collected by the Lodgemanager and distributed among all employees – except lodge managers, master hunters, etc.
Not included
Processing fee: 150 Eur
flight tickets
Transfer from / to Buenos Aires to / from the lodge (high volume pigeon hunting with less than 4 hunters or mixed bag hunting in general)
Personal expenses
Tips at the Lodge – see additional costs
Tips for Master Guides (Lodgemanager, Master Hunter, etc.)
Ammunition (calculated according to consumption)
If you have any questions or if you are interested in an offer for hunting in Argentina, please contact us via Email or contact form.
All offered trips are arranged by us and carried out by our partners as organizers.