Our partner has different hunting areas in Alaska depending on the game species you want to hunt. All camps are served from Anchorage by plane. In addition to hunting, our partner also offers fishing in Alaska.
Brown bear hunt on the Alaska peninsula
In the areas of our partner on the peninsula clients every year bring down very good brown bear trophies. Here it is possible to shoot a world record bear. The area has a very high density of bears if not the highest in Alaska. The areas are carefully managed to maintain the trophy quality and popolation.
Equipment
For every hunt, an airplane, boat or Argoquad is available for hunting and radios and satellite telephones for emergencies. The equipment is up to date and allows a comfortable and safe hunt. In the months before the hunt, the hunter receives detailed descriptions of his hunting.
Hunting season
The spring season takes place in even years (2016, 2018, …) and is in May (10-21 May or 19 May-1 June) with 8 hunting days each. In odd years (2015,2017, …) the autumn hunt takes place which extends from 29th September to 9th October (8 hunting days) or from 8th October to 20th October (10 hunting days).
The bear hunt can also be combined with fishing at the lodge on Lake Clark or on the peninsula for the autumn hunt. Wolf and birds are also available on the peninsula.
Moose hunting in Alaska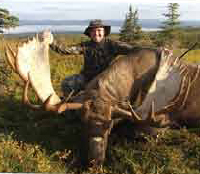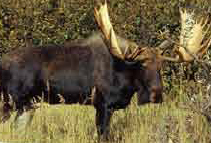 For moose hunting, our partner owns camps in southwest Alaska and on the Alaska peninsula. The average trophy strength is between 60 and 70 inches, with an moose of up to 77 inches seen. At the moose hunt you first fly into the basecamp, from where you continue with the ArgoQuad, airplane or boat into the spikecamps. During the hunts, the wishes of the customer are met so that some hunts can be offered by boat or ArgoQuad as well as in heated cabins instead of spike camps with tents.
During moose hunting, observer can also stay overnight at Stonewood Lodge, Lake Clark and engage in a variety of outdoor activities or fishing. In addition to freshwater fishing on Lake Clark, we also have opportunities to fish for saltwater fish in one of our camps.
hunting season
The hunting season for moose is in September (for example 3rd to 17th September)
Dall sheep hunting on the Brooks and Alaska Range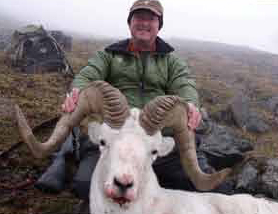 Every year in August and September our partner carries out the Dall sheep hunt. These hunts can be ideally combined with brown bear and Caribou. Every year my partner gets a certain number of tags / licenses for the Dall sheep hunt without having to take part in the lottery as it is sometimes necessary in other regions.
Hunting Seasons
Alaska range: August 24th – September 2nd
Brooks Range: 8.-16. August and 16.-23. August
Other game species
Black bear, mountain goat, Caribou (single hunt in Yukon or as an addon to other hunts in Alaska)
Arrival
The arrival in the hunting area takes place by scheduled flight to Anchorage. Condor offers direct flights at some times, then it goes by floatplane or a Cessna7super Cub further into the camp. The normal arrival is directly from Anchorage with a Cessna to the camp. There is also a stopover for a night at Stonewood Lodge on Lake Clark. Accompanying persons are also welcome in Alaska, while hunting they can stay at Stonewood Lodge.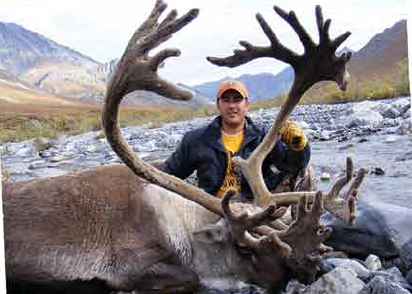 Included in the package:
Kills according to offer
Equipment like boats, AgroQuad, …
Accommodation in Spikecamp or Maincamp
Meals in the main / Spikecamp
Hunting guide 1: 1
Not included
Return flight to / from Anchorage (eg Condor from Frankfurt) Approx. 1300 Eur
Return flight to Anchorage camp (about 1850 USD)
Weapon import or loan weapon
Alcoholic drinks
Companion
gratuities
personal expenses
Packing and shipping of the trophies as well as possibly required CITES
Travel insurance (resignation, health insurance, …)
Hotel accommodation before / after the hunt in Anchorage
If you have any questions or are interested in an offer to hunt in Alaska, please contact us via Email or contact form.
All offered trips are arranged by us and carried out by our partners as organizers.