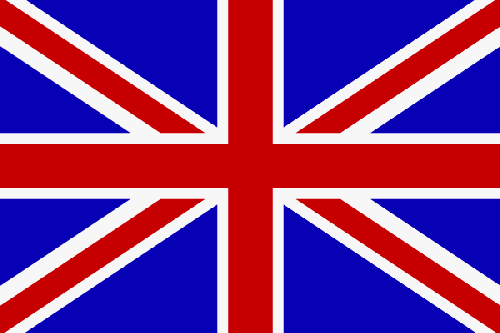 In the UK we arrange hunting trips as stalking on roe deer in the south of England as well as on Muntjak and Waterdeer in a region 2h north of London. Muntjac and water deer were introduced long ago in England and have breaded very well, so that hunting is possible and necessary today. A two to three day trip should under normal circumstances be enough to kill one of the two game species. If you want to kill all two species you should plan for three to four days, even if it is possible to do so in three days, you may want to add some buffer, because the weather can change very quickly and this affects the two game species.
England and especially southern England offers excellent trophies for the roe deer. We offer both package deals incl. kills as well as the targeted hunt for strong medal bucks.
Hunting areas
The hunting grounds on Muntjak consist of mixed forests with thick ground cover and fields. The muntjak is mainly hunted in the forest.
The water deer, however, is a resident of open areas so it is not uncommon to see several water deers standing in the field. The waterdeers areas consist mostly of fields / meadows with smaller hedgerows and small shrubs where the water deers can hide.
There are various areas available for hunting roe deer. Hunters who want to hunt for good bucks in the class of 300-400g horn weight will enjoy our complete packages in the south of England here we can also hunt bucks up to 500g. If you are interested in particularly strong 500g + medal sticks, we have areas in Oxfordshire and Gleicertshire where every year 15 and more bucks with around 500g and sometimes even over 600g are killed.
Wild species
Roebuck, Muntjak and Chinese Waterdeer (CWD)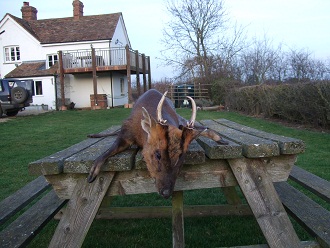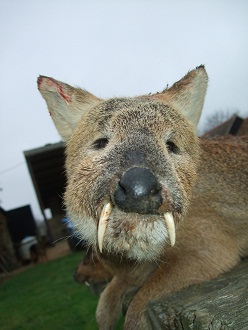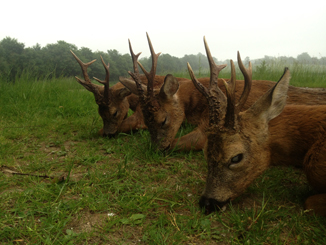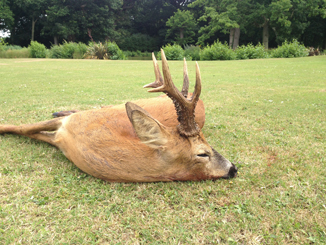 Hunting season:
The hunting season on Muntjak and water deer in the area is from November to March.
The roebuck hunt starts on April 1st and can be operated successfully until autumn.
Accommodation:
Accommodation is in a bed and breakfast house near the area.
Climate:
England is characterized by the Gulf Stream and thus has a generally milder climate which, however, has a higher proportion of precipitation compared to Central Europe. For hunting, you should therefore pack appropriate rain gear.
In addition to the hunting trips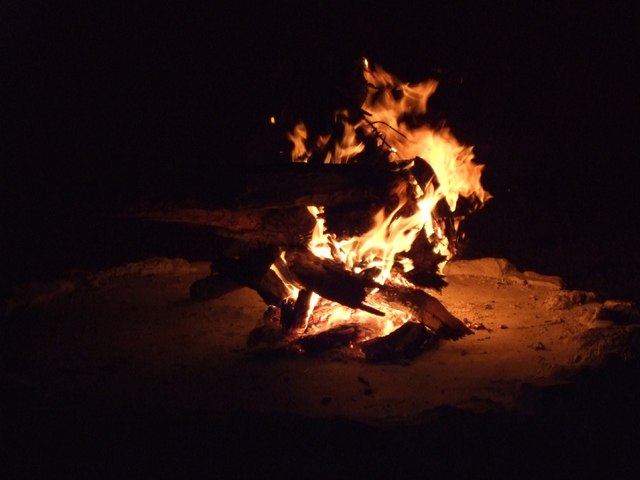 Processing fee 100 GBP, accommodation, gratuities
Flight costs to London (about 160Eur)
Airport transfer (at Muntjak / Wasserreh)
Loan weapon (at Muntjak / Wasserreh)
Feldpraeparation of trophies at Muntjac and Waterdeer (20UK pounds)
Packaging and shipping of trophies
If you have questions or are interested in an offer for hunting and hunting in England, please contact us via email or contact form.
All offered trips are arranged by us and carried out by our partners as organizers.
Another way to hunt in the UK is to go hunting in Scotland for deer, roebuck or small game. More information can be found under the heading Destinations-> Scotland.